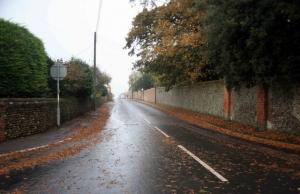 Is your car ready for the changing weather? As summer comes to an end, we know that means cooling temperatures, rain, and falling leaves in Mukwonago, Wisconsin. It also means winter will be here before we know it!
As National Fall Car Care Month, this month is the perfect time to ask, "Is my car ready for autumn and winter?" Here are eight things you should check to make sure your car can handle the coming weather and road conditions:
1. Tire pressure – Cooling temperatures can affect the pressure in your tires, as external pressure changes with the weather. Take a few moments to check your tires with a pressure gauge and make sure it's filled to the recommended level. Proper tire pressure not only reduces the chance of a flat, but also improves fuel efficiency.
2. Tire tread – Check your tire tread too! While 2/32" is the minimum acceptable tread on your tire, rain and snow conditions require more tread for safe driving. Your tires should have at least 4/32" of tread, without bulges, wear, or bald spots, so you don't risk losing control of your car on slick roads.
3. Windshield wipers – If you wait for the next rain storm to check your windshield wipers, you're risking your safety. Get in the habit of running your washer fluid periodically – you'll be able to monitor if your wipers need replaced, and you'll have a cleaner windshield!
4. Defroster/Heater – Also test your defroster before the cold weather hits. On the next cold morning, turn on your heater to make sure it's working. Make sure air flow reaches your windshield and isn't blocked in any spots. If it takes too long to warm the interior, bring your car in for a heating system inspection.
5. Battery condition – As temperatures drop, your battery may begin to show signs of failure. Test your battery's condition using a multimeter (or have it tested) to ensure it is operating in the acceptable range. If your battery is getting old or can't hold the proper charge, your vehicle may not be able to start on cold mornings.
6. Brakes – When roads are slick with rain and snow, your brakes are put to the test! Brakes are subject to wear and tear with normal use of a vehicle, which means you'll need to have them serviced and replaced periodically. Have them inspected before the first storm so you know that they are up to the task.
7. Cooling system – If you've been putting off your coolant flush, have it done before winter arrives. Coolant (aka antifreeze) is critical to keep your engine running at the proper temperature even when the weather gets cold.
8. Winter tools – Chances are you took that pesky ice scraper out of your car to make room for summer gear. Now is the time to put it back in your trunk or glove box so you are prepared for early frosts of the year. It's also a great time to start prepping your auto survival kit.
Pay attention to your vehicle as the weather changes – some systems that work fine during the summer may start to reveal warning signs this season. Make sure your vehicle is up-to-date on manufacturer recommended maintenance, and address any concerns before they lead to bigger problems and costly repairs.
Stop by our shop or call 262-968-3324 for an inspection to make sure your car is ready for this fall!